Quality
It is Basin Precision Machining's mission to provide unmatched customer satisfaction by maintaining a highly skilled staff who provide excellent customer service and innovation to create maximum value to our customer.
Lean Manufacturing
Basin Precision Machining has been committed to lean manufacturing since the introduction of the "Goal" in the early 1980s. At Basin Lean is a journey of continuous improvement.
Corrective and Preventive Actions (CAPA)
These are implemented in response to a suspected deviation from one or more of the Basin Quality Systems. Utilizing 8D and 5-Why methodology, we have an analytical approach to problem solving. Work-flowed through our ERP system Plex, we never miss a step.
Six Sigma and TPS Methodology
To further focus on continuous improvement, Basin Precision utilizes TPS and Six Sigma methodologies. We are constantly measuring, analyzing, and improving our business processes to better serve our customers.
Statistical Process Control
The most current statistical methods are used to analyze our processes, assuring the highest quality product is produced and the robust, repeatable manufacturing process chosen remains stable and unchanged. Advanced process planning including Process FMEA and full PPAP submission are available to guarantee a smooth start up to the most difficult projects.
SPC data is recorded into Plex right in every work cell which parametrically links the data to the serial number of the material lot the measurement came from. This provides strong traceability, and the ability to track down issues with 100% certainty.
Measurement Systems
Basin deploys 7 Zeiss Coordinate Measuring Machines to assure access to accurate, timely, and automated measurement data to our team members. We also have vision systems, and a vast array of state-of-the-art manual measuring equipment.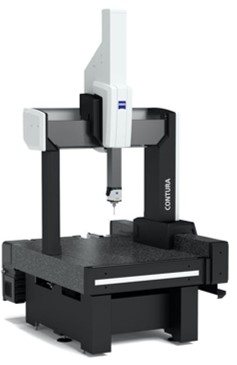 Industries Served:
Defense • Motorcycle • Hydraulic Components • Agriculture • Aerospace • Heavy Equipment

Locations:
Jefferson, WI Location
211 Collins Road
Jefferson, WI
920-674-6003
We Are...
State-of-the-art
Our proprietary software, Total Tool Maintenance TM™ (TTM™), Automation in Manufacturing™ (AIM™), and Scheduling System provide the data and information we need to produce quality parts, on-time.
We Are...
Working smarter, not just harder
Our Horizontal Machining Center capacity has been expanded with the addition of a Mazak Palletech Flexible Manufacturing System (FMS). One of the largest in the country, our system offers 6 500MM Horizontal Machining Centers, 120 pallets, and 348 tools per machine. We can now produce any mix of complex parts with zero setup.
We Are...
Innovative
Our teams have the resources to meet customer needs.
FMS automation reduces setups and maximizes utilization.
Thermal deburring processes for 100% burr free product.
Coordinate measuring machines and a fully networked facility help teams quickly gather relevant, accurate information